Local antivirus it is now very much.
But not many local antivirus developed seriously to eradicate the local virus that also will not cease to innovate to attack computers.
For proof, just a few local antivirus that supports unicode.

Unicode is an industry standard designed to allow text and symbols from all writing systems in the world for consistently displayed and manipulated by computers.
Unicode is used sophisticated viruses to prevent itself from antivirus detection.
Antivirus programs are usually not yet support unicode, so when the program is reading unicode characters usually arise '?'.

One of the virus that use unicode in its distribution is Doomsday 2012.
This virus was created to be a nightmare local antivirus.
Please read on http://darmal.blog.friendster.com/2009/06/doomsday-2012-mimpi-buruk-antivirus-lokal/

Here are some antivirus software that already supports unicode.
As a product of codenesia, CMS or codenesia malware antivirus scanner is one that supports unicode. With a view which is simple but the ability to scan is very high cms. Because of this support unicode, cms gets a plus from other local antivirus.
Download cms :
http://www.4shared.com/file/171101226/c41d11e7/CMS_PH1.html
Ansav is the antivirus that have many features to memabasmi virus.
Collaboration with the plugin and also the excess clamav database.
But the important ansav also supports unicode.
Download Ansav :
htpp://www.ansav.com/
SmadAV is the most popular antivirus in my opinion in Indonesia.
Users have very much.
SmadAV also already supports unicode and unicode methods are also used smadav to protect themselves from virus attack.
Download Smadav :
http://smadav.net/download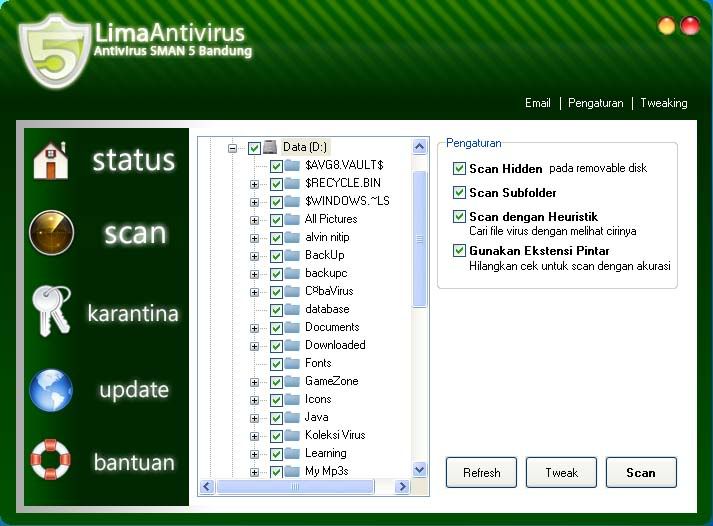 Limav is a new local antivirus.
It is not known antivirus.
But this virus has unicode support.
Download Limav:
http://limav.net.ms/
source: http://codenesia.com/artikel/antivirus-lokal-support-unicode.aspx